Open source software's are very much popular these days than commercial software's. As it brings down the start-up cost of the business's, so every start-up and enterprise owner prefers to use open source software's. Mostly we saw open source software's in tech industry, where these software gives an edge to entrepreneurs. However, commercial software's also plays an important role in giving advance features to the desired business's. We cannot underestimate the role of commercial software's too.
Today every developer wants a consistent and secure way to transfer his files to hosting server.  FTP(File transfer protocol) is the way in which we can transfer our web files to hosting server.  With keeping this in mind many software companies launch their own ftp software's.  So here i listed top five free and popular ftp softwares.
List of Open Source FTP Softwares
FileZilla:
This file transfer software is the best open source product in the market.  FileZilla is open source software distributed free of charge under the terms of the GNU General Public License. FileZilla Client is a fast and reliable cross-platform FTP, FTPS and SFTP client with lots of useful features and an intuitive graphical user interface. Download Filezilla to experience this software.
Filezilla features
Supports FTP, FTP over SSL/TLS (FTPS) and SSH File Transfer Protocol (SFTP)
Cross-platform. Runs on Windows, Linux, *BSD, Mac OS X and more
IPv6 support
Available in many languages
Supports resume and transfer of large files up to 4GB
Tabbed user interface
Powerful Site Manager and transfer queue
Bookmarks
Drag & drop support
Configurable transfer speed limits
File name filters
Directory comparison and many more features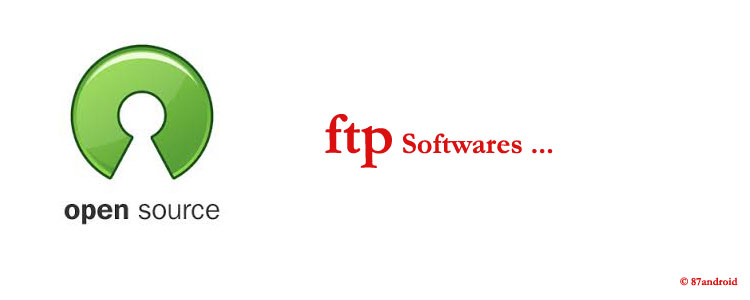 WinSCP
WinSCP is an open source free SFTP client, SCP client, FTPS client and FTP client for Windows. Its main function is file transfer between a local and a remote computer. Beyond this, WinSCP offers scripting and basic file manager functionality.  Download winSCP.
WinSCP features
Graphical user interface
Translated into many languages
Integration with Windows (drag&drop, URL, shortcut icons, jump list)
All common operations with files
Support for SFTP and SCP protocols over SSH and FTP and WebDAV protocols
Batch file scripting and command-line interface and .NET assembly for advanced programming tasks
Directory synchronization in several semi or fully automatic ways
Integrated text editor
Shares site settings with PuTTY and many more features
bareFTP
bareFTP is a file transfer client supporting the FTP, FTP over SSL/TLS (FTPS) and SSH File Transfer Protocol (SFTP). It is written in C#, targeting the Mono framework and the GNOME desktop environment. bareFTP is free and open source software released under the terms of the GPL license.  bareFTP is currently being ported to python, and the C# source is not actively maintained any longer.  Download bareFTP.
bareFTP features
Supports the FTP protocol in active and passive mode
Supports FTP over SSL/TLS (FTPS) (control connection and optionally data connection)
Supports SFTP via the SSH protocol
Supports distributed PASV (PRET)
Resume and append
Multithreading – You can continue browsing while transfer is in progress
Multiple simultaneous transfers (File transfer protocol)
Bookmarks with secure password storage using Gnome Keyring
Drag and drop and many more features
Cyberduck
It is another free ftp software in the market.  It comes With an easy to use interface, connect to File Transfer Protocol, SFTP (SSH Secure File Transfer), WebDAV (Web-based Distributed Authoring and Versioning), Amazon S3, Google Cloud Storage and Rackspace Cloud Files.  Download Cyberduck.
Cyberduck features
Connecting to every server
Edit any file with your preferred editor.
Distribute your content in the cloud.
First class bookmarking.
Browse with ease.
WebDAV Interoperability.
OpenStack Swift.
Advanced SSH features.
Integration with system technologies and many more features.
Core FTP
It is a free Windows software that includes the client FTP features you need.  Features like SFTP (SSH), SSL, TLS, FTPS, IDN, browser integration, site to site transfers, FTP transfer resume, drag and drop support, file viewing & editing, firewall support, custom commands, FTP URL parsing, command line transfers, filters, and much, much more !
This free, secure FTP client gives you a fast, easy, reliable way to update and maintain your website via FTP.  It also provides a secure method (via SSL, TLS, FTPS, HTTPS, or SFTP) to upload / download files to and from FTP servers.  Download Core FTP.
Core FTP features
Secure SFTP, SSL, TLS, & FTPS
International Domain support
Fast and secure client transfers
HIPAA compliant security
Mode Z compression
User-friendly interface(s)
Site to Site file transfers
Full drag and drop support
Start/stop/resume of transfers
Auto retry of failed transfers
Transfer bandwidth control
Browser integration and many more features.
Uploaded by:  Author