A browser is a most frequently used application in all user devices to access the internet. With the help of this application users can do their daily web transactions or other related things. However, usage and view of browser built-in features can be customized with the help of the various addons. For this users only need to download and install addons on their browsers for any extra customization.
Many of us, sometimes feels confused to the word "addons"(which plays an important role in browsers customization). Due to lack of the knowledge about this concept we oftenly installs incompatible addons in our browsers, which further leads to slowness of browser, browser crash, browser hangs(while working) and other related issues. In my college days i also had few bad experiences of incompatible addons with my browser, which slow down my browser for 3 to 5 minutes. But i manage such issues by understanding addons and their working in browsers. So to avoid any technical issues & browser incompatibility, let's understand few important things about addons and their related practices.
What is Addons
Addons are the small piece of code(applications) for browsers which further extends/enhances/personalize the functionality of the browsers. We can customize browser built-in features by using desired addons for daily use.
Benefits of Addons

a) We can customize browser existent look and can add extra needed features.
b) Addons are our mini office assistant which connect us with desired applications to fetch regular updates. for example: weather addon,page-rank addon and many more.
c) It Improves browsing experience.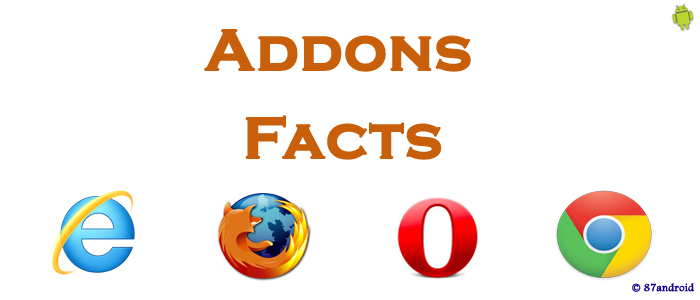 Important Addons Facts
a) Addons appears mostly when browser asks users to install a particular software to view or run any particular application. for example: In real time when we install new browser then sometimes our browser asks us to install adobe flash player or shock-wave player to view any flash related animation or video.
b) Generally addons are verified by addons manufacturers and digitally signed by their brand name. As resulted this helps users to know the digital identity of the addons.
c) Try to download system compatible addons in your browser. for example: 32 bit(Windows,Mac,Linux) or 64 bit(Windows,Mac,Linux) addons. However, nowadays many websites automatically scans user systems for compatibility and downloads suited addons accordingly.
d) Always download addons from verified sources to avoid any infected addons for your browsers, which could steal stored passwords from your browsers.
e) Always remember to follow complete steps to install any addons for your browsers. Do not start any browser related applications in the middle of the installation. It may cause installation problems for your browser.
f) Addons may also cause security or compatibility issues in your browsers. You can disable or delete specific addons to increase the speed of the browser.
g) Regularly update your favorite addons for required updates to avoid any interruption in your browsing.
h) Read addons features and match them according to your requirements to avoid any technical issues with addons.
i) Third party addons contains lots of hidden information and sometimes are not digitally signed by addons manufacturers. So always read or verify any such addons before installation.
Note: Disabling or Deleting a addons means that you may not be able to use or view any addons specific application on your browser. So please think twice to delete or disable any important addons for your browser.
Uploaded by: Author