Many webmasters and bloggers always wishes to index their websites or blogs in the top positions of the Google search results. For this, they uses various virtual methodologies to impress Google to crawl and index their website in the higher position. But as we all knows that Google has set few quality standards for all websites, which helps Google to index best and quality websites into their search results. So let's take a quick look at few Google standards which should be adopted by any webmaster or blogger for the  success of his/her website at Google.
Must follow tips – How to index a website or blog on Google
1) Write quality, unique and informational content for your readers to allow them to follow your website or blog. Try not to deface and redirect your users by manipulating any abusive or violent content.
2) Google crawlers never reads text inside images, so always use textual information in your website or blog, instead of writing text into the images for better indexing. However, webmasters and bloggers can put info-graphic images at some extent to attract readers into their websites or blogs.
3) Structure and Design clean template for your website or blog to allow Google crawlers to visit your website or blog.
4) Always make sure that your web server supports "If-Modified-Since HTTP" header, as this feature allows efficient updates of cached information with minimum overhead. This feature enables your web server to communicate with Google about any change in your website content.
5) Regularly check your website or blog for any broken links. Try to use search engine friendly url's for your website or blog. This will helps in better indexing for your website or blog.
6) Use robot.txt file on your web server, as it notifies crawlers about required information of directory/folder for crawling. Also makes sure that you don't accidentally block the Googlebot crawler. You can use "robot.txt analysis tool" in the Google Webmaster Tools for your website or blog to check its existence and other technical activities.
7) Don't use any special software or applications for indexing your website quickly in Google search results. As such activities may harm your website ranking or can disabled permanently from Google search results.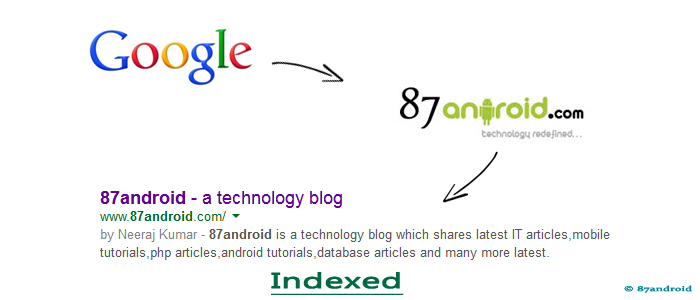 8) Always monitor your website performance and other activities regularly with Google Webmasters Tools. You can also check your website or blog in different browsers for its better user experience, as better user experience drives more traffic to your website or blog.
9) Don't forget to submit your website or blog sitemap to Google, as this tells about the structure of your website or blog to the crawlers.
10) Avoid automatically generated content for your website or blog, as such content is not worth for readers. Generally this consist of few paragraphs of random text. For example: Text generated from automated applications/process.
11) Try to avoid buying or selling links, which effects website page-rank. Don't build spammy or unnatural links to promote your website or blog. Otherwise Google will punish your website or blog with their automated algorithm's like Panda, Hummingbird and few others.
12) Avoid too much Guest posting, Article marketing or any automated programs or applications for creating links for your website or blog.
13) An uncompleted website or blog will not get any special attention from Google crawlers, so always make sure that your website or blog is fully operational before indexing into the Google search results.
14) Follow proper DHTML, CSS and JavaScript pre-define structure for your website or blog. As this also helps in getting proper ranking of website in Google search results.
Note: Always try to follow Google programs and policies for websites to get indexed properly and stay updated with its regular updates.
Uploaded by:  Author