As Android continues its monopoly in the mobile OS market, there are millions of peoples who likes android enabled mobile devices for their entertainment. We can see day by day consistent growth of android enabled devices in the market. Many of us purchases android phones with general specifications in mind, like processor power, RAM, interactive graphics quality, 3G, Internet and many more required applications. So keeping these things in mind, i have explained the difference between dual core and quad core processors in android enabled mobile devices.  The main objective of this article is to empower users and buyers about the quad core and dual core processors of smartphones.
In today's competitive market we have many types of processors available for mobile devices.  But here in this article i mentioned two most preferable and popular processors with which user can experience HD quality graphics, high power RAM, advance application interface and many more.  Dual core and Quad core processors are very efficient in the development of powerful android phones.  So let's understand what is dual core and quad core processor and how both processors are different in terms of their efficiency.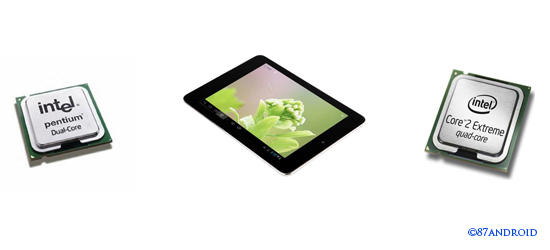 Processors for Android Devices
Quad core processor
A quad core processor is a chip with four independent units called cores. It reads and executes CPU instructions such as Move data, Add data etc.  The individual cores in quad core processor can run multiple instructions at same time.  Quad core processor have benefits over dual core processors such as:
Faster multitasking
Faster web page load times
HD quality gaming
Low power consumption
High performance for complex applications
Many mobile companies implements quad core processors on their devices to promote their smartphones in the market.  Quad core processors is twice as fast as a dual-core processor.  Recently Intel introduced Core 2 Extreme quad core mobile processor which has four cores processing multiple threads and multiple tasks at blistering speeds.
Note: Processor speed depends on the user behavior while accessing smartphones. Users and buyers are advised to stay updated with the latest processors in the market.

Dual core processor
The dual core processor has two separates cores on the same die, each with its own cache.  It has two microprocessor in one.  Many manufacturers launches dual core processors in many android devices.  A dual-core processor chip can often provide better performance than a traditional single-core processor.  But Some dual-core chips provide better performance at the expense of battery life, compared to quad-core chips. The advantage of going dual-core in today's phones is that it offers more capability for multitasking and video.
With its efficient performance, dual core processors also gives few benefits compared to the quad core processors such as:
Benefits of dual core processors
Faster speed of mobile phones as application instructions are handled by two processors.
Efficient processing performance and decreases overheating.
Dual core processors also consumes less power than twin-core processors.
Gives advantages in multitasking.
Note:  Read technical specifications before buying any smartphones & Always Close any unnecessary  application on your smartphones to function it properly.
Uploaded by: Author