Advertisement on twitter is very much in demand and shows comprehensive results to advertisers. With its vast worldwide userbase, twitter continuously present itself as a perfect micro-blogging platform for advertisers. It comes up with the various products to attract individual users & business houses such as promoted tweets,promoted accounts,political ads and promoted trends itself.  However, day by day this micro-blogging website continuously adding new products to raise its standards among its competitors.
Twitter Promoted Trends is a just another product of its wide range of products. It is known as an extension of promoted tweets and presently established itself as a complete product, which receives a lots of praise from its users in short time. So let's take a look on its popularity reasons among worldwide users.
" Promoted Trends are context, time and event-sensitive trends promoted by advertisers. These promoted trends appears with yellow "promoted" signs in the "Trend" section of the twitter. Sometimes it appears within the user timelines too. "
Popularity facts of Promoted Trends
a) Promoted Trends is just like other trending topics appears with hashtag eg: #87android. Users can see related trending tweets by clicking on promoted trends hashtag(#87android).
b) Promoted Trends is totally different from normal trending topics because it is purchased by an advertiser and clearly marked as a "promoted" followed by the advertiser name or brand name. Users can tweet about promoted trends while composing personal tweets.
c) Twitter search results also shows promoted trends on their search results. Users can see and curate related terms on twitter search results.
d) Promoted Trends also appears on various smartphones(android,iPhone) and Tweetdeck.
Note: Users can alternatively navigate to Twitter "Homepage" or "Discover" tab trending topics for promoted trends.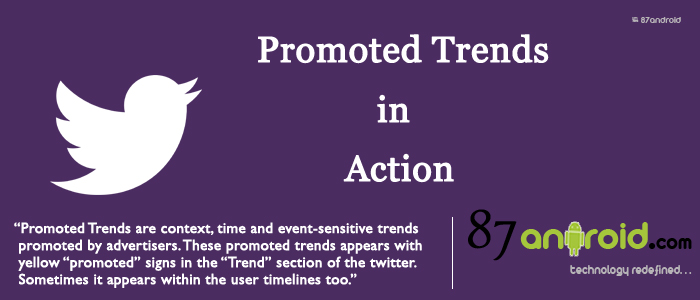 Twitter is very strict in publishing such trending hashtags or marketed tweets, so time to time twitter notifies users about their policies related to such products. However, In this article i have also mentioned editorial and content related policies of Promoted trends to facilitate readers for deep insights of this product. Readers/Users may follow the same for their future advertising campaigns.
Editorial & Content Guidelines(Promoted Trends)
a) Twitter recommends advertisers to follow their user friendly advertising policies. For this, it discourage any spammy marketing campaign which degrades user experience.
b) Twitter restricts Promoted trends name length to 20 characters and discourage extra capitalization(as it appears confusing/spammy to users).
c) Promoted Trend or Image should not contains any offensive language.
d) Promoted Trend or Image should not contains any abusive & adult/porn content.
e) Promoted Trend or Image must be relevant to advertiser service or brand name. It should not deface any copyrights or terms of other service provider or brand names without their permission.
f) Twitter advises advertisers to not to use any punctuation, symbols or spaces for their Promoted Trend to trend them organically in twitter search results. However, generally advertiser may use  punctuation, symbols or spaces for their Promoted Terms, but the same term will not trend organically.
Above guidelines can also be found on twitter. Readers may navigate to twitter for more information. Readers are also advised to stay updated with twitter advertising policies before starting any marketing campaign on their platform.
Knowledge Source: Twitter
Uploaded by:  Author