Today we are in the forest of smartphones where technology shorten the distance between individuals. Smartphones are now part of our daily life. From shopping to banking we mostly rely on smartphones for needful transactions. Moreover, we use to store confidential information in our smartphones for quick access. Interactive applications has also changed the view of smartphones as now we can download required applications with few touches from anywhere in our smartphones. But by downloading applications from third party websites or vendors, sometimes we opens the gates to vulnerable security threats and malware to our smartphones.
Many of us enjoys applications on smartphones but forget to protect our smartphones by dangerous threats, which could lead to loss of personal data.  So to encourage all readers about security in android devices, i mentioned few required tips to secure your android applications from security threats. Kindly follow below mentioned important tips to protect your android smartphones from malwares.
a) Encrypt your smartphone:  Just like your computers and laptops you can encrypt your smartphones with a PIN or Password. In this way, if anytime you loose your smartphone then no one can access your smartphone without required PIN or password. You can activate this function through Android device security settings.
b) Always use Screen Lock:  This function is almost same like encryption of smartphones. With this basic function in every smartphones, user can lock their smartphone screen with password to prevent any unauthorized access. You can also customize this function at Android device security settings.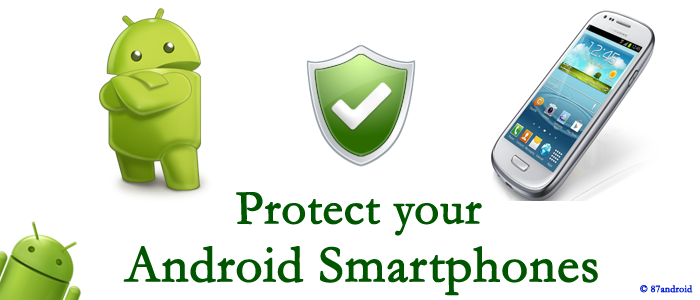 c) Install Applications from verified sources:  Always install android applications from secure and verified sources. Installing banking and other required applications from unknown sources can open loopholes in your smartphones. So always install APK file (android application extension) from verified sources.
d) Never store confidential data on phones:  As increased specifications in today's smartphones gives users a comfort of storing sensitive data on phones, but on the other hand it opens the gates for scammers to steal important information without applying any hard virtual techniques on phones. User must not store their confidential information on smartphones SD card, as this can be removed easily by anyone.
e) Do Activate Android Device Manager:  Android Device Manager can track your phone even after you loose your phone. This feature is very useful to know the exact location of its whereabouts. It also enables you to ring the device at full volume for five minutes and can erase all the data in phone. Always enable this function for your android smartphone. To verify if it's enabled or not, you can go to the Settings menu on your device and tap on Security. It can be enabled through the Device Administrators setting under Security Settings.
f) Protect your applications by password:  Users can also protect their confidential applications such as banking applications and social applications by securing them with a password.  In this way user can't access your password protected application without a password.
Note: Users are advised to use secured and verified sources to download applications such as Google Play Store, Apple Store etc. Also never share/store your password and confidential information on your smartphones.
Uploaded by:  Author