Banking is one of the core sector of world economy and it is growing with immense pace. Since the shift of customers from long queues to credit and debit cards, the banking is very popular among customers. Today people's likes to swap their credit or debit cards to do some shopping, invoice billing and for other things. Many Banks also providing cool features to attract more customers. Shifting of the traditional banking to online banking has many advantages. And people's also likes these advantages as they don't have to spend their valuable time in the banks for little transactions.
"Online banking refers to the banking where people's can do their financial transactions online with ease."
But with the invent of this kind of banking there are few exceptions attached with this technology such as people awareness and online fraud. In many countries people's are still not aware of the functionality,advantages and disadvantages of online banking. As resulted they relied on traditional banking to complete their needful transactions. However, banks and other agencies also run their awareness campaign time to time to teach individuals about the importance of safe online banking but still every year there are lots of complaints registered in many countries against online fraud.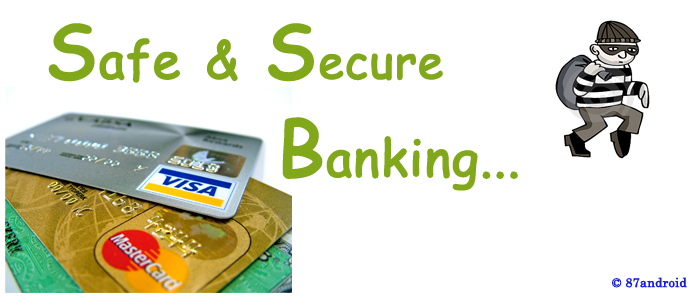 In this article i mentioned few steps to complete safe online banking without any hassle. By following below mentioned steps people's can avoid any online fraud which might hurt any individual financially.
Safe Online Banking Tips
Users needs to remember few important steps while doing any online transactions such as:
Before doing anything on the bank website, please ensure that address bar of your internet browser begins with "https" ('s' means secured).
Please look for the padlock symbol in the address bar. You can verify the security certificate by clicking on padlock symbol.
If your address bar has turned green then it means that your bank website is secured with SSL(secured socket layer) certificate which meets extended validation standard.
Avoid using net banking from untrusted computers(for example cyber cafes).
Do not access bank website from any email links,sms links and links through other websites. Always type your bank website URL in address bar for secure transactions.
Change your password regularly to increase more security for your online account.
Always use licensed antivirus software to protect your computer from malware and viruses.
Use virtual keypad for enhanced security to enter your net banking passwords.
Beware of common cyber attacks like "Phishing attacks" which can steal your financial information without your knowledge. Phishing is a fraudulent attempt usually made through email,SMS,phone calls which seeks your personal information.
Note: Banks never send Emails and SMS to their customers for asking their ATM Pin number,bank account number,username and password of online banking. Please do not respond to such emails and sms. If anyone found any such kind of Emails or SMS then please contact your bank against such suspicious communications.
Uploaded by:  Author