Building an online venture is not a tough job for those who likes to work hard on their skills. Most of us prefer to build an online social network by adding and following each other to stay active in cyber world. But in recent times web audience is becoming more practical and intelligent while surfing on the web. They prefer good educational articles besides playing game or listening music on YouTube. The need of the good educational articles is increasing very rapidly and this is a good news for all blogger's community.
Note: Technically Google ambitious algorithm's(Hummingbird,penguin,panda) updates also focuses on unique and knowledgeful articles to index into their search results. It means no more spammy and duplicate articles in their search results.
There are millions of peoples who surf the web and read tons of articles daily. Many of them start their own blog by taking some motivation from existing quality articles. Being a blogger is a good idea when you know what you are writing for ? So in this article i mentioned the four easy steps to create your own blog with which you can explore your passion towards writing.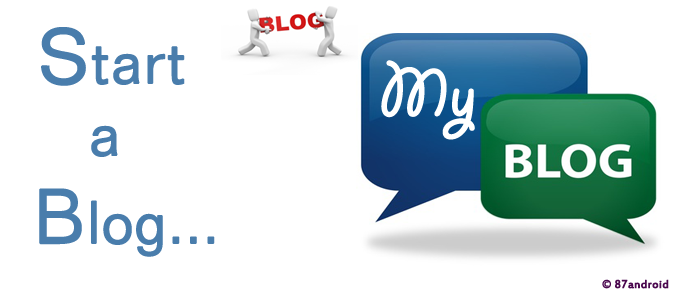 What is Blog ?
This question is frequently asked by any novice or intermediate writer/blogger to start a blog. However some tries to write to achieve overnight success in this sector and got blocked by respective search engines. Interpreting wrong meaning of this word would lead to negative impact on your blog. So first try to understand the meaning of the blog. In simple words we can describe blog as a "Writing Impactful thoughts,knowledgeable contents and views about any subject which could help readers to gain some knowledge about the subject(article)."
Choose a topic
A good blog can make an impact on online readers when its topic is chosen wisely by a blogger. A strong blog topic can make a difference in reaching to worldwide audience.
Note: Always choose those topic in which you feel comfortable to write and explain its contents to readers.
Highlight Your Blog
After choosing a strong blog topic you should buy an attractive domain name with web hosting from leading hosting providers such as Godaddy.com,Hostgator,Znet and many more. Many hosting companies also offers cheap hosting packages to start a blog or website. Before purchasing domain name and web hosting one must remember few things such as:
Choose short and attractive domain name to attract more visitors on your blog.
If you are a non-technical person then research for good hosting company to host your blog without any downtime or slow website speed. But for those who understands the  technical requirements to start a blog then always check the latest version of programming language and database to minimize the technical fault.
Take backups regularly to avoid any problems with hosting company.
Note: If you are a novice blogger then you can choose free blogging platform such as blogger.com,weebly.com,wordpress.com and many more. One can start their own blog by creating an account in these websites for free of cost.
Write Unique Articles
After setting up the blog, you need to write few quality articles to attract more visitors. If you write spammy and duplicate articles with wrong grammers then top search engines will punish your blog straight away. Before writing an article just go through these four point such as:
Write a simple article in which you can explain the objective of the article to the readers.
Never use same words or repeated lines frequently.
Write a short article of about 350 to 600 words. (writing long articles could decrease the interest of readers).
Stay focus on your blog topic. Misleading readers with un-appropriate content can increase the bounce rate of your blog. (Bounce rate is the percentage of single page visits in which the visitors left your website from the main page without interacting with the inner pages).
Note: Duplicate/Copied articles could damage the reputation of your blog, so always try to write informative and unique articles.
Share Articles
A unique and quality article is the need of time and must be shared with all readers. For this a blogger can choose social platform to promote his/her articles among readers. Engaging with the readers is another thing to follow up the articles, so be attentive towards your blog posting's.
Note: Above steps are the basics of creating a blog and it might differ in terms of blogger passion towards blogging. I suggest all bloggers to be precise with your article topics and its contents to boost visitors flow.
Uploaded by:  Author